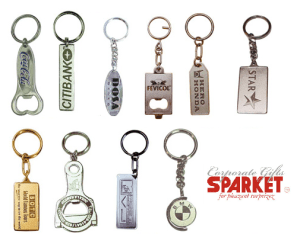 Key Chain is One of the Most Common Giveaway Gift which is Well Accepted by Masses and Immediately Replaced by Throwing the Old Key Ring.
There are times when the recipients immediately asks for another one too as they truly understand the value of extra pair of handy key chains. Extra care is required to make it look attractive and presentable so that the same is used and not stored in the cupboard or drawers for tying up loose keys.
The most sought after keychains are where the recipient starts flaunting it around and it becomes a talking subject at get together or parties. The price range of keychains starts from high single digit to even three figures depending on the material used and finishing.
Today you get electronic keychains which will help you locate your keys when you need them after a party or at a friend's place. Even web services can be used to find out your missing keys with the help of RFID.
Key chains are for the masses and you can make impressive good key-chains starting from low two digit amount for minimum order quantity of preferably 1000 numbers. The logo and messages can be customized as per your need and can be made very impressive to give you desired mileage. Keychains can be considered as a cost effective giveaway when there is a good connect with the brand or product. Lower quantities can be ordered when only printing or laser engraving is required on the surface of the finished readily available product.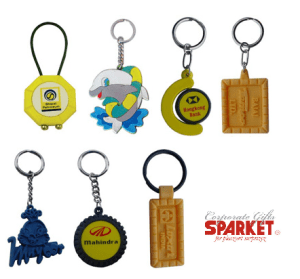 Key chain can be customised in wooden, metal, rubber, plastic, leather, glass, acrylic, brass, silicone in any shape and size imprinted with your logo to help you remind your customers about your brand. Utility can be added to this corporate gifts by adding mini torch, opener, key finder, light, screw drivers, lighter, USB, spoon, fork, etc. You can insert printed matter in the see through plastic acrylic box container to impress the end users who in turn can further change the inserted matter. You can plan to create the shape of your logo to associate with your brand or product with excellent branding space. The end objective within budget can be matched to catch the attention of the new users from very low to medium to high to luxury to super luxury segments.
Depending on the target market and keeping the end use in mind the key chain can have a dog hook to help users attach the same with their trousers or bags. The ring used should be of good quality to avoid rusting and thereby bad experience of the users as they will associate the poor experience with your brand. Cutting cost is always good and desired but one should be careful as whether they are cutting fat or muscles. For this you need reliable vendors who believes in giving good prices without compromising with quality and educate you all the time to help you take an informed decision for the better health of your brand image.