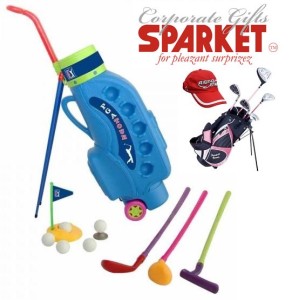 Golf is an expensive game and is associated as premium sport for the rich and wealthy. The game is associated as a sport where you compete with yourself instead of others and is liked and admired by CEOs. There was a time when bankers use to hit the golf course after lunch as business was assured with steady returns. Lately the game is becoming popular with the masses due to leisure time and money to enhance the experience.
We made a special bag for the participants at the golf competition where there was a separate compartment made at the bottom to accommodate the golf shoes. The regular bag was there as a side bag to carry the other gold related items. Golf cap is also different to ensure that face is well covered to avoid the scorching sun. Golf T-shirt is different to make the player look glamorous and wealthy apart from the comfort of wearing it for the full game. The game has become so popular that there are academies where one can go and practice apart from being promoted through premium schools. The cost of the equipment and the monthly cost too have come down to make the game more popular.
Liquor companies associating with golf are open to the idea of impressive bottle openers when the budget is constraint and the user would like to feel different by owning a specially designed bottle opener which reminds them about the game of golf. You can also select from the handy leather golf kits of 6 to 8 inches which holds various bar accessories in the shape of various golf tools including the stirrer, peg measure, hammer to break the ice etc.
One can buy and even gift readily available golf kits which come in a small table top box. Depending on the budget you can buy a wooden or aluminum case knocked down golf club with ball for practicing at your office room or home. Apart from the giver the gift excites the receiver and is well appreciated by one and all. We have made golf balls with logo printing packed in attractive boxes to be given as gift for our big corporate clients.
The mementoes too are different for golf and we have assisted with crystal and impressive golf trophies for various tournaments. Different budget and size can be used for various winners to achieve the end results. We actively work with many event and advertising agencies for creating the physical merchandise products as per there envision concept within a cost effective budget.