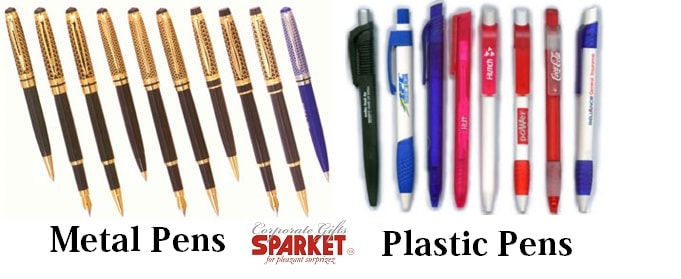 Pens are used by all literates and is the most common product to carry with oneself. The use is so vast that it will be found at all mass visited public counters as a must tool to fill up the forms etc. Pen is the most common item borrowed by the general public in any queue to fill and sign up the forms. Many times it happens that strangers forgets to return the pen after use and because of this particular reason the smart ones uses the cost effective ones. Smart loaners remember to keep the cap of the pen with themselves so that both are reminded to return after use. Few smarter ones even keeps two pens one for their own use and cheaper ones to loan to others so that they do not regret the loss of expensive pens. Promotional Pens by Sparket Corporate gifts offers fantastic services to all corporate in Bangalore, Kolkata, India. Since the pen can be customized with one's logo, brand, message and tagline it becomes an effective advertising tool. The promotional pen is first choice due to low price, everyday use and acceptance by masses.
Use is so vast that even the receiver is open to welcome more numbers as free gifts irrespective of the lower quality as he can always keep it in his vehicles, bags, drawers, pocket etc. Depending on the budget, image and the target audience the plastic pen is selected from as low as Rs.2 to Rs.30 for a minimum order in multiples of 100s. Metal pens are available from Rs.40 to Rs.300 including the famous look alike of branded pens. The pens can also be personalized with the name of the person with screen printing or laser engraving it to make it a preferred pen of the receiver. Depending on the budget and target audience individual boxes can be used with gift wrapping paper to make it more presentable. Pen is the most common item in a gift box along with wallet, keychain, watch to make it a complete daily use gift set.
Plastic pens, metal pens, wooden pens, paper pens, granite pens and marble pens can be selected with cheap refills or replaceable branded refills. Promotional Pen can also come with USBs, laser pointer, camera, torch etc. to make it the preferred choice of the user. You also get pens with light in the front to write in a dark room and with stylus to make it touch screen friendly for exciting the receiver and to acknowledge their appreciation of your thoughtful promotional gift.
You can make body of pens in two colors with cap of 3rd color to give your brand look with golden or silver embossing of your name or logo. The price for this use and throw pen is very low but quantities required is rather large to make it as per your choice of colors for mass distribution at exhibitions, fairs, promotions etc. You can select from look-alike impressive pens of all major brands at a very cost effective price to distribute along with your logo to impress the receiver.
We can even custom made pens as per your design to give it a separate identity. Please feel free to get in touch with us for all your writing instruments.