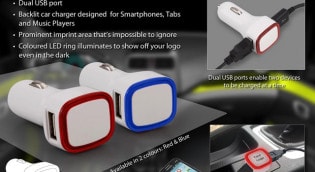 The biggest frustration of the life is on a busy day when you are on the move and your battery shows sign of giving out. The USB car charges has been designed keeping that in mind so that through the lighter socket you can charge your smart phones, tablets or music players while on the move. What more you even have a choice of charging two devices at the same time while reminding your clients about your brand. You have a choice of USB car chargers including with a key-chain at various price points to go ahead with your planned promotion to increase your sales and brand recalls.
The salient features of the USB Car Charger is as follows:-
12 v Two way USB car charger
Dual USB port enable two devices to be charged at a time
Back-lit car charger designed for Smart phones, Tabs and Music Players
Prominent imprint area that is impossible to ignore
Colored LED ring illuminates to show off your logo even in the dark
Available in choice of 2 color red and blue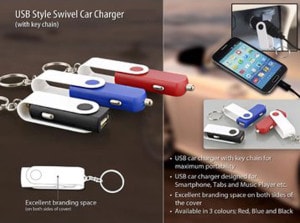 USB style swivel Car Charger with key chain for maximum portability
Excellent branding space on both sides of the cover
Colors available red, black and blue
What is the USB car charger?
Buy Online USB Car Chargers From Sparket Here: http://www.sparket.biz/product/8-in-1-emergency-car-toolkit-4-led-torchred-light-flasherglass-window-breakerseat-belt-cutterpliersscissorsscrewdriver/
USB car charger helps you recharge your mobile phone through lighter socket while you are in your car. The device comes with dual port also so that you can charge two devices at the same time and never run out of the devices not charged during those crucial times when you need them the most. More importantly around late evening when your near and dear ones would like to know your whereabouts!
How to Use of the USB Car Charger
You will find that the ease and use of smartphone and tablet is much more with ready socket plugs to charge them at any time of the day and night when you are on the move in your vehicle.
Specifications of USB Car Charger
The cigarette lighter is a must in all currently available cars and works as the 12v outlet for charging all your latest devices like smart phones, tablets and music players. For branding purpose colored LED ring illuminates to show off your logo for more impact even in the dark. Apart from white base color you have a choice of red and blue color to go with your device or décor. You can have them with dual port for charging two devices or as a key chain for extra portability.
Available Price range..
The MRP of the product ranges between Rs.80 to Rs. 150 but on bulk buying it will be offered at an attractive price depending on the exact product, branding, customized packaging and quantities.
Minimum Order from Sparket
Minimum order of 50 will be appreciated and in special cases smaller lot can be entertained by us.
How you will benefit from Sparket Corporate Gifts
We will try to understand your objective of gifting and products already shortlisted by your team and help you further fine tuning the requirement within your given budget and time frame. To help you achieve the parameters set by your team we will show you physical samples with finished look to zero down on the gift. Once you and the team are confident that everything is in order then you can place your order comfortably and can start focusing on other challenges to achieve your allied objectives.
Buy Sparket Corporate Gifts : http://www.ocpindia.com/
Visit Our Ecommerce Site For Online Shopping: http://www.sparket.biz/