Everything From "A PIN TO A PLANE" in Corporate Gifts
About Sparket Marketing Pvt Ltd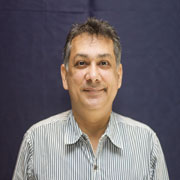 Sparket Marketing has grown to over 25 strong people with branches at Kolkata and Bangalore with last year turnover of Rs.1300 lakhs. Most of the team members have stayed since joining and have completed between 10 to 25+ years.
100% of the share holding is with the family and we are enjoying good bank limits. Family and well wishers have continuously invested in the Company for ever growing working capital needs. But the time has come to unlock the hidden potential of the organization for mega growth.
A pure distribution Company for initial 20 years finally identified Corporate Gifts as their destiny where they can be the leaders in the fragmented market. The current 50% turnover is from gifting from over 200 blue chip Corporate of India. The margins are high due to value added service and unique role as integrators of promotional solutions to big marketing and sales organizations.
Managing Director : Anil Kumar Gupta started Sparket in 1986 after a successful stint as door to door salesman selling vacuum cleaners with Eureka Forbes Limited. He left as Divisional Sales Manager responsible for the 2 top selling branches with 60 sales persons and full fledged service centers.

ED & CEO: Rajesh Kapoor a colleague at Eureka Forbes Limited joined immediately and grew to be the Executive Director looking after the sales function. Instrumental in giving stability to the Comp Rajesh strongly believes in creating a regular back up team for all eventualities and ensuring almost all orders where he competes are picked up by his team. A die hard go getter and people's man has built up over the years a strong team to help grow the Company continuously. A very ambitious man who has earned full loyalties of his team and the customers alike. The Company has already earmarked 10% of the current equity for him for his commitment spanning over 27 years.any by focusing on end users from the beginning in spite of slow growth. Again took pain to start the Gifting division at kolkata and increasing the product range and customers by understanding how we can be different compared to the competition.
Pain points / issues / our solution to the Corporate buyers
Corporate gifts over the years has been a one man show who burns out due to their limited bandwidth. Due to lack of team activity competition aims to survives on personal relationship instead of a professional relationship. The business has very high churn due to lack of variety of products with reliability factor on quality and wide swing of experiences. Corporate prefers: Quality at low price as they distribute promotional items free to increase their product trials and thereby there overall sales. However due to poor quality of merchandise and short sightedness of the competition they end up facing negative sentiments from the users due to substandard quality of the promotional items. To overcome this they switch to branded items but that results in increase cost of promotions resulting in a no win situation for them. Sparket offers: Corporate a reliable partner who provides promotional items at cost effective prices with warranty of merchandise within the time frame to help them increase their sales. We ensure Corporate increase their sales and thereby we end up increasing our sales. Brands fight constantly for market share and in the process we end up increasing our overall sales due to increase competition at the market place.
Product / Technology overview
Spirits, Pharma and regulated industries can't advertise and thus depend on promotional items to increase their connect with the end users. Moreover after heavy advertising brand needs connect on the ground with end users, channels, employees and associates to enhance their relationship. Award , mementos, caps, t-shirts, backpacks, mugs, pens , key chains etc. are few common Since small segment has limited budget no one is interested in serving them as the ticket size is small and not viable as the business model. We have been receiving regular enquiries from all over India and are thus fine tuning the model to serve them through call centre without field executives visiting them. Event management, advertising agencies and resellers have their own contacts whom we are trying to serve through the back office and through the website to increase our reach and turnove. Since we are good at training and human relationships we are working on a collaborative cum cooperative platform to increase our presence in a cost effective manner all over India. Gradually. we aim to enter all English speaking Countries as India is very cost effective as far as labor is concerned. China is definitely very strong with machine made items. We have exported to almost all continents and 24 Countries and see a good scope here.
Business model :- High perceived value at very low cost!
The corporate need daily new ideas of promotions to increase their sales and enough capable manufacturers are there who can produce but cannot do regular sales. Here we see a good synergy by having regular sales with reliability of supplies and WIN – WIN – WIN situation for us, our customers and our vendors. Going forward after our volumes increases and pipeline becomes strong enough we must start developing designs and products which we will be able to sell to our competitors too to enter our super growth phase. Abroad Corporate Gifts has become the contractual business where for example Pepsi ties up for a year for USD 5.0 million. (as per the info from gifting Companies planning to enter India due to pressure from their existing clients). Profit margins are healthy due to nature of the business and our role as integrator s. It will only become better as team size and covering metro increases resulting in lower overheads. With volumes the bargaining power will also increase with both suppliers and Corporate customers. We are already selectively doing product and design development and that will give us tremendous clout at the market place.
What is the size of the market opportunity?
As per newspaper reports gifting industry in India is worth USD 2 billion. Corporate sector depending on their margins plan budget of anywhere between 2% to 5% of their sales as last mile activity. Promotional items helps Companies ensure trials so that end users get used to their offerings. From automotive dealers, showrooms to SMB segment, Corporate every one spends from yearly once at festival times to round the year at events, conferences, seminars, launches etc. Big timers like jewelers, Metro cash and carry, Staples, Office Depot to all small and big brands to have Corporate Gifts / Institutional sales to ensure trials of their products and to capture bulk volumes of gifting business. We have the minimal role with the brands and are actually we offer very good substitute for almost all the brands. (for example a Samsonite bag can be copied without the brand name at 25% of the MRP). Market opportunity is as big as all brands combined as Corporate can buy stuff with their own logo to keep their constituents happy due to high perceived value at very low price.
Current Traction
We have grown from zero to over Rs. 600 lakhs in last 8 years from over 500 corporate. The margins are upward of 25% on sales price which can further increase once we design our own Our front line trained salesperson does average target of over Rs. 60 lakhs per year which can be increased to Rs.100 lakhs if working capital challenge can be managed properly. Customers would like to see new products and new ideas which means for the right sales person We have trained our uneducated delivery boys over the years to become top sellers and are confident of doing a much better result with hungry street smart graduates. We have been successful in generating business from all over India and almost all continents except South America and have exported to 24 countries worldwide with the help of internet. We just need to be more aggressive in our approach with enough resources as our disposable to scale up the model to strike it BIG. Big players from rich Countries are a threat for the single reason they will enter with few of their existing relationships. Better we have control over the local market so we become their first choice for strategic tie ups. India is a very good source for all hand made items as they can source and sell at huge margins to their existing base. Myntra.com copied successful business model abroad and came as personalized gifts but failed due to limited volumes here and moved to fashion accessories. Very successful Companies abroad maintain huge stocks and machineries and cater to SMB segment as online gifts order Company but we are not very excited with that model. The inventory, operation cost increases and flexibility comes down as you have limited bandwidth. (We are excited to start abroad and check how they counter our no inventory model with full flexibility). Anyway currently we are not very keen on small business orders as at the end of the day market is not very big. eYantra is the strongest local player with presence in all metros and funding through various entities including Times Group. They have burned good money in developing Company logo stores which has been a big failure in India as at the end of the day there is no profit but yes big losses. More you sell and successful you become you end up accumulating bigger losses. We are excited with our business model and would like to scale it up by increasing few dedicated sales persons to increase our reach and presence and make it a profitable journey from beginning to the end.
Exit Options
Over 5 years we should be able to build up the reserves to buy back the equity invested by you. You can also exit whenever a serious player enters India and option is available for you. We are open to idea of IPO too if we fast forward our growth and expand in unbelievable way. We can even have current well wishers invest in the Company as the proof of concept is established by then.
Partial list of esteemed Corporate clients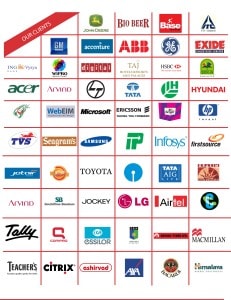 [ninja_forms id=1]