Check our full range of household plastics and feel free to get in touch for your customised requirements with your product branding for various merchandising activities. The range shown below includes tea infusers, fridge jugs, sipper bottles, fridge bottles, water bottles, water bottles with tumbler as 2 in 1, tiffin boxes, glasses, tumblers, oil pouring jars, grocery jars, spice jars, storage containers, bowls and jars. (Check our full range of household plastics and feel free to get in touch for your customised requirements with your product branding for various merchandising activities. The range shown below includes tea infusers, fridge jugs, sipper bottles, fridge bottles, water bottles, water bottles with tumbler as 2 in 1, tiffin boxes, glasses, tumblers, oil pouring jars, grocery jars, spice jars, storage containers, bowls and jars.)

Tea Infusers: –
available in your choice of colour for handy use at all places including while traveling to help you steeped in freshness.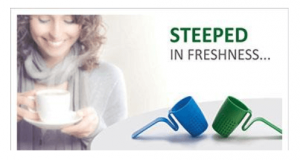 Fridge jug: –
for storing milk or juice as shown below for a refreshing start in the morning with capacity of 1500 ml to impress the home makers. Choice of crystal jug too for keeping the water in the fridge for cooling and taking it out to the dining table as and when required.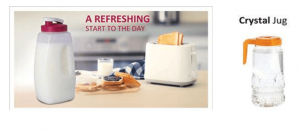 Sipper bottles: –
available as Scooby and Brave sippers with capacity of 550 ml each and Sporty sipper of 700 ml, displayed below to kick start with a sip!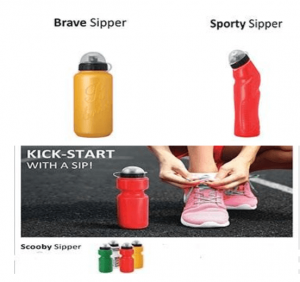 Magna Sipper:-
Magna sipper
with capacity of 500 ml and Fantasy & Venus sipper of 1000 ml each as shown below because just a sip can infuse life!

Fridge Bottles: –
Fridge bottles: available as Prime, Glow and Geo with capacity of 500 ml each to always keep you cool!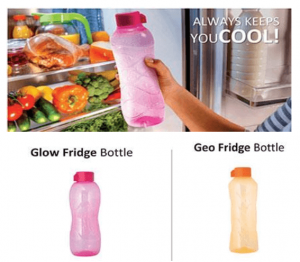 Water bottles: –
to carry and drink anytime as 2 in 1 for ease of carrying with bottle capacity of 500 ml with tumbler size of 165 ml. Make every drop blissful with choice of water bottles in 300ml, 400 ml & 500 ml respectably as shown below with choice of Bubble grip as aptly named.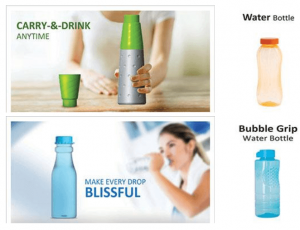 Tiffin box: –
for snacks and meals as shown below with capacity of 800 ml as Smart and 400 ml as Slim. Make every meal colourful with choice of partition with one extra container with inner lid as shown below.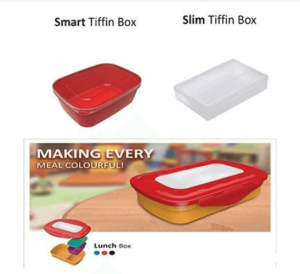 Glasses: –
to drink up the goodness as shown below with and without lid with capacity of 375 ml, 300 ml and 600 ml respectably to have a great party.

Tumblers: –
called Dimple in 330 ml ideal for cold coffees, 350 ml for juices to savour every sip and Cheer tumbler of 600 ml capacity with press fit cap to carry around your drinks.

Jars:-
Oil Pouring Jars: – for pouring every drop of oil with perfect ease available in 750 ml as small jar and 1000 ml as large jar as shown below.

Round Tap Jar: – with capacity of 12 litres as water dispenser at home, offices and clinics to make a splash with every drop.

Grocery Jars: – to fill your kitchen with the right ingredients with the press fit cap and with option of lid with slider as shown below.

Spice Jars: – a touch of spice always delights so jars are available in both round and square shapes with option of serve & sprinkle cap with capacity of 135 ml as shown below. Also available Tall jars in small size with capacity of 400 ml with serve and sprinkle caps.

Freshness Containers: – available in small and large sizes with capacity of 940 ml and 1770 ml as shown below to win hearts.

Storage Containers: – to store from treats to rations in square containers with capacity of 3400 ml and round container with capacity of 7575 ml to store so much more!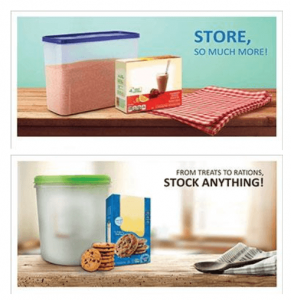 Bowls: – Wonder bowl with snap fit caps with floral and regular design with capacity of 220 ml to remind us that it's the little things that bowl us over.

Jars: – available as the perfect kitchen companions called Round jar with capacity of 100 ml in regular cap and Marvel jars with capacity of 475 ml with snap fit caps.

Tilting jar available as small and large with capacity of 750 ml and 2300 ml with choice of aluminium lid for large tilting jars. Tall jar also available in large size with capacity of 1000 ml.

Please do write to us with your budget to suggest you either a gift hamper or series of products for round the year consumer promotional schemes to increase your market share.
"[ninja_forms id=1]"