10 Characteristics of a Great Value Proposition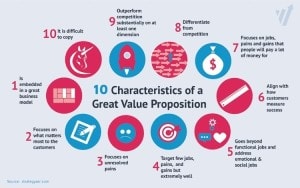 The tree which gives fruits for many years also needs a humble beginning with a single seed to start the whole process of giving. Similarly to get lifelong customers for your products you need to understand and encourage trial of your products before the user gives their loyalty back to you. You as a manufacturer have invested so much to create the new product and now must convince the prospective customers of value of your offering by encouraging trials. The loyalty of the user can be earned by ensuring the product is used and tasted and for that first step is creating awareness for your products. Corporate gifts as an additional free offer helps you lubricate the giant wheels of trials faster and cheaper to establish both your product and brand at the market place with all important stakeholders.
When to Start Offering the Free Gifts with Your Products?
The best way to enter the mind of your target audience is to offer them something they will value and in the process will try your products for the first time. Good chances are once they try your product and like it then they will automatically become regular users of your products. 'Awareness', 'Consideration', 'Trial', 'Usage' and 'Loyalty' are five important steps to increase your regular sales cycle. To encourage more trials and thereby increase in regular usage (after your initial campaign is over and growth in sales are flattening) the best option is to offer free corporate gifts.
What Kind of Gifts is More Appropriate?
Try to look for connection with your brand or product to make the effort a long lasting one. Keep in mind the age group of your target audience so that they are attracted by your free gift. Budget is an important factor as that is total extra cost of promotion and you must plan it judiciously. The budget can be allocated either with higher priced product with lower quantities or lower price product with higher quantities depending on your product and profile of the target audience. Ideally gift offered should be so attractive that users will go for the deal as buying that free item makes no sense to them but at the same time they would be tempted to own the free gift.
What Kind of Branding or Logo is Sensible on Free Gifts?
Depending on the quantities and budget you can offer free product in the same box or separately. If there is resale value for the product and push from the channel partner is required then let the product go to partners separately. If the role of the end user is more important than it is always better to pack it in single box to avoid pilferage and misuse by the channel partners. Your brand logo on the free gift will always act as a reminder to the user but be careful about the loudness of the logo. On personalized product like wallets loud logo will make your user avoid using it publicly. Smartly emboss your brand inside where only user can notice it now and then ensuring high recall mileage.
Gifts for Making the User Switch His Brand!
Coke and Pepsi colas are switchable brands and depending on what is available consumers select the same if the first choice is not available. So at times when your inventory is more or you are going aggressive with brand promotions or are trying to increase the market share then it makes sense to offer either to trade partners or end users free schemes to increase the immediate sales. Liquor companies offer trolley bags with expensive whiskeys at the airport to increase the trials and thereby new sales, simultaneously helping upgrade the new buyers due to trial and liking the extra smooth taste. Even if not becoming a regular buyer due to budget constraint at least at celebration times he will pick up the tried and tasted bottle again.
Cross Selling and Introducing a New Product!
We helped a product make an impact in the market in slow and steady manner. The item was dot matrix cartridge and refill of ABEE brand which was then controlled by the unorganized re-fillers. We created a budget of 2% on MRP and started giving on every bill to all trade partners namely stationers and IT resellers with either one FX-105 cartridge or one 18 meter refill depending on the bill amount of HP toner and ink cartridges. The competition could not counter it as retailers perceived the offer as 2% extra discount and in the bargain simultaneously we were not only increasing free stocks with various partners but also increasing sales of our very price sensitive HP consumables products. Some IT re-seller partners were not keen to add low value dot matrix consumables supplies but were invariably stuck with ever increasing free stocks with them. After few self usages they were forced to offer the same to their regular customers in the bargain converting their free products into money and adding another range of consumables products to their basket. No need to say that it was a major success increasing the brand to number 1 position in the area against established names likes Fullmark, Wipro etc. Please feel free to discuss your unique product category for a viable gifting solution to increase your sales. "We help you increase your sales and only thereafter by default in the process also end up increasing our sales!"
How to Increase Market Share of Your Products Through Channel Partners?
If the product is where the channel partner makes the big difference then it always makes business sense to offer an attractive gift scheme to them and increase their inventory levels. Run the scheme for a longer period with attractive target based gifts to cover various levels of channel partners to upgrade each and every one to the next possible levels. Chances are that your market share will increase sizably and before the stock in the pipeline reduces plan and run another attractive gift scheme back to back. Very important to continue to control the market share and keep increasing stock pressure with the retailers by putting the depressing pressure on the competitive brands and in the process eliminating the most vulnerable brand. The game will keep changing in each round and at least we have moved to the next level.
How to Influence the Various Influencers?
For lubricant companies mechanic is the main influencer, for cement masons, for cpvc pipes plumbers, for plywood carpenters, for paint painters etc. However for construction product companies the influencers can be many in the chain of hierarchies as engineers for technicalities, architect as project in charge and finally builder who is the producer. Depending on the industries and various roles of the influencers the gift can be accordingly decided to suit and impress the various profile owners.
Keeping this in mind JOY an over 100 crore women skin care company ventured in to X-Men Grooming Kits solely for the influencers to ensure enough trials of their nine grooming kit products before they launch and place in the general trade. They launched four separate sets of grooming kits with free pouch with MRP of Rs.236/-, Rs.380/-, Rs.580/- and Rs. 750/- to address all levels of influencers. Public sector lubricant brands are using the same to increase their sales, apart from Eureka Forbes giving it to their field force as target based incentives based on the stretch targets and allowing them to qualify for any of the available four packs. Liquor companies have used the same to connect emotionally with their trade partners. Pharma companies did trial first with their medical representatives and on strong recommendation from the field force extended the same to doctors. The above case in an ideal I Win –You Win case for all stakeholders!
How to Connect Through Concepts!
Pharma companies don't advertise so they need to educate the doctors about their new drugs and inventions through concepts which they live behind on the doctor's table as the name reminder of new drug. Doctors can recheck the brand name from the desk top concept and start prescribing the new improved drug before memorizing it for good. Apart from a good discovery, a good connect and a very impressive concept all woven in one seamless effort gives the big initial push to the new drug. We need an email brief similar to the one given to the advertising agency to work on your concept and identify a good product connect to help doctor remember and prescribe the same!
Please do get in touch with us if you would like to discuss and understand how to increase your sales through corporate gifting!